Who We Are
Set 2 Rise Properties is a family business, in operation since 2012. Originally from Ottawa, we settled on the beautiful west coast several years before that and we now call New Westminster our home. Getting into real estate investing seemed a natural step, as we have had family in the industry as far back as the 1950's.
Our "why" is to generate wealth so that we can help friends, family, causes, and charities that we believe in. We want to make the world a more positive place.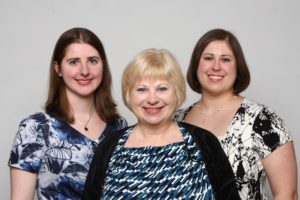 Oriana, Irene and Emma Cope
All three of us have university degrees in various fields: visual arts, music, languages, and education. We also each have been involved in different sports: Irene as a volleyball coach for a winning regional team, Oriana as a competitive swimmer on a university championship team, and Emma as a waterpolo player on the youth national team. We like applying our successful experiences in sports to real estate investing.
We are a family that loves to travel, and between the three of us, we have been to well over thirty countries around the world. It's something we'd love to do more of in the future, and we're always excited to meet others with an adventurous spirit.
We each bring a different personality and perspective to the table. Irene is the driving force, ready to jump into opportunities the moment they cross her path. And with her compassionate demeanour, she connects easily with those she encounters. Oriana is the mediator, with an easy-going, gentle, and bubbly personality. She measures most everything she does on the level of fun it will bring to her life and those around her. Emma is the analytic, always weighing the pros and cons of a situation, and taking the time to assess any decision she makes so that when she makes it, she is absolutely sure of it and regrets nothing going forward. In this way, we balance one another, and the deals we do are absolutely amazing!